DROP SHOT CONQUEROR 9.0 BT
La nueva Drop Shot Conqueror 9.0 BT es la joya de la corona de la colección de beach tennis que hará disfrutar a los jugadoras más exigentes.
Colección Beach Tennis 2021
LINEA BE ONE
Características
DROP SHOT CONQUEROR 9.0 BT
Pala de Beach Tennis Drop Shot Conqueror 9.0 Soft BT
Dentro de la coleccion de palas de Beach Tennis Drop Shot 2021 está situada la nueva Drop Shot Conqueror 9.0 BT, el modelo más afamado de la colecció y que, sin duda, dará respuesta a todos los jugadores que buscan el máximo rendimiento en cada golpeo y situación.
Una Drop Shot Conqueror 9.0 Soft que sigue la línea marcada por sus predecesoras y llega con forma oval tradicional para optimizar la zona de golpeo y conseguir una experiencia de juego única utilizando en su interior una goma EVA TECH que permite tener un control sobresaliente y una capacidad definitoria única.
Un modelo que es la joya de la corona de la línea Be One y que, por ello, cuenta con algunos de los mejores materiales en su fabricación. Doble tubular de carbono para el marco, caras que combinan carbono 24K rectangular con Curv 360 y finalización rugosa en formato 3D y y una estética distinguida, elegante y deportiva.
La Drop Shot Conqueror 9.0 BT apuesta por avances tecnológicos punteros como el Curv 360, el 24K Rectangle Carbon, el Cork Grip, el Sping Coating, el Power Bean Heart o el Silicone Grip Channel que permiten crear un proucto bien equlibrado y balanceado que rinde de forma sobresaliente bajo cualquier circunstancia.
Una Drop Shot Conqueror 9.0 BT que cuenta, además, con una estética diferencial. Gracias al carbono que compone su estructura brilla el look tornasolado que da personalidad a las caras permitiendo que la luz varie sus tonalidades y dejando los matices al turquesa.
Tecnologías Drop Shot Conqueror 9.0 BT
La Drop Shot Conqueror 9.0 BT disfruta de las revolucionarias tecnologías de la linea Be One de Drop Shot.
TWIN TUBULAR SYSTEM: Todas nuestras palas de marco de fibra de vidrio están fabricadas con doble tubular de telas impregnadas con resinas de máxima durabilidad, dandole homogeneidad en todas las áreas de la cara y aportando una mayor rigidez, así no se pierde energía del golpe por distorsión del marco.
RECTANGLE CARBON 24K: Carbono de ultima generación de 24K, 24.000 filamentos. Desarrollado por T-Extreme con formato rectangular, para una mayor acción mecánica de flexión y reacción produciendo una reacción más rápida al momento del golpeo con la pelota.
CURV 360: Este nuevo material sobre la cara de las palas conseguimos aumentar su durabilidad, potencia, flexibilidad y resistencia, otorgándoles una jugabilidad nunca antes conseguida
EVA TECH: Es una goma cuya principal propiedad es la elasticidad intermedia, aportando mayor potencia y un punto dulce más amplio con mayor comodidad en el juego, debido a su elasticidad. Las palas Drop Shot con Eva TECH se caracterizan por su tacto seco, pero agradable.
CORK CUSHION GRIP: Sistema de antivibración, que combinado con los otros sistemas que aportamos, hacen a nuestras palas ideales para jugadores que arrastran lesiones crónicas. Consiste en una lamina de corcho situada en el área de la empuñadura, evitando así que lleguen vibraciones a la mano del jugador.
SMART HOLES SYSTEM: Sistema de distribución de del agujereado de la pala, en forma curva, progresiva y que aporta un mejor desarrollo de las fuerzas mecánicas en el momento del golpeo, ayudando a dar efecto a la pelota y mejorando la reducción de vibraciones.
SILICONE GRIP CHANNEL: Un canal en la empuñadura de la pala, donde se inserta una pieza de silicona con un recubrimiento de 2 mm de corcho superabsorbente, para reducir las vibraciones justo en la zona donde el jugador coge la pala. Las palas Drop Shot, con esta tecnología, permiten disfrutar de un juego más seguro y agradable.
LOOK: vanguardista y elegante.
Características Drop Shot Conqueror 9.0 BT 
Tipo de producto: Pala de Beach Tennis
Forma: Ovalado Clásico
Balance: Medio-alto
Nivel de juego: Avanzado y profesional
Estructura: Tubular de Carbono
Caras: Rectangle Carbon 24K + Curv 360 + 3D
Núcleo: Eva Tech
Control: 60%
Potencia: 40%
You might also like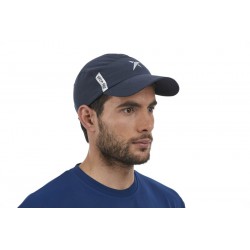 Regular price
€25.00
-€10.00
Price
€15.00